Kitchen Remodeling Toronto and Kitchen Designers Toronto
Considering your needs before jumping to a Contractor is a smart choice that will save you a lot of time and money in the long run. Prioritize your requirements and research the Contractors you have shortlisted to possibly get you as a set of Clients. Let BRIKS Construction consultants listen to you and give you the best advice you need to focus more on the important things that come with your remodel and renovation. Ask yourself if the overall appearance of your kitchen too dated and if you require adding more aesthetic form to it. Would adding a window be a good idea to bring in extra light and serenity to your kitchen? Or are you more of a contemporary modern Client looking for a dramatic yet simple statement ? We have it all for you.

All these reasonable questions are part of the "Getting to know your Client" process, that can be solved for you by the toronto kitchen remodeling designers at BRIKS Construction. We study every aspect of your toronto kitchen remodeling requirements deeply and will deliver a floor plan and design that optimizes all floor space that's right for you! Below are a few options to add on your kitchen essentials list, and get a perfect customized kitchen with the help of BRIKS Design-Build experts.
Purpose and procedure go hand in hand when it comes to choosing cabinetry. Cabinets are more of the focal point of your toronto kitchen remodeling and carry almost 70% of the overall look. It is essential that you choose a design pleasing to your eyes, yet functional. BRIKS Construction can provide Clients with an wide array of designs and materials that we make easily available due to our reputations and preferred Contractor referrals in Construction industry. Opting for a glass-door cabinet is smart for showcasing what is inside like pots or any decoration item vs. solid wood cabinet doors all questions that we walk you through this process.
Flooring is the second most important decision you'll have to make. You will be directed by the design experts and then you'll have to pick the floor type that complements the style of your cabinets. The number of people accommodating in the kitchen at one time should also be considered before finalizing the flooring material.

If you have kids who run around playing in the kitchen playing then you would definitely need you to go for a durable, scratch resistant floor. If you cook a lot or are still learning, you can opt for spill proof flooring. Pets no worries and lets do Vinyl. Our best kitchen designers Toronto will be there to guide you through their expertise.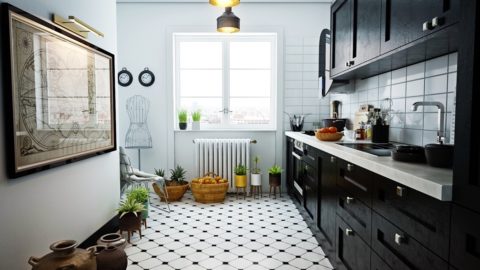 Lighting plays a significant role in your kitchen. Therefore the experts at BRIKS Construction take a proper view of your kitchen layout and ceiling plan to map out the areas you need what type of specific lighting. For example, under cabinet lightning would be just perfect for your designated food prep area. Or mood lighting would be ideal for the part of the kitchen which is reserved for entertaining.
The question is what sort of things you will be planning to store in your kitchen. There can be utensils like pots, pans and dishes, or even you can store papers and bills. These drivers ultimately determine how much space you can designate for food storage, which the BRIKS Design-Build team walk you through.
All these minutest of details along with plenty of more need consideration before you spring into action for your upcoming remodel.
Recognizing that individuals seeking kitchen renovation services in Toronto often contend with demanding lifestyles and work schedules, our commitment is to streamline the renovation and remodel process, ensuring a seamless experience tailored to your specific needs.
Contact one of our designers at (+1) 416.799.1000 and we will guide you from beginning to end on this journey.